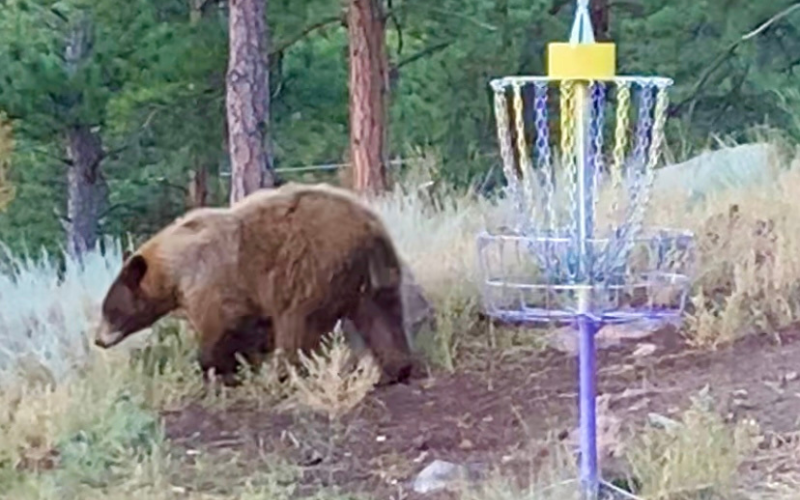 A Disc Golfer's Paradise is exactly what we intended. Picture this: you step onto the SKOL Ranch Disc Golf Course, engulfed by the breathtaking Colorado mountain scenery. The crisp mountain air fills your lungs as you take in the panoramic views of Pikes Peak.
The course is a disc golfer's dream. 19 cleverly designed holes challenge your skills while treating you to awe-inspiring views. Imagine launching your disc across fairways nestled amidst rolling hills, watching it soar against the backdrop of pine-covered landscapes.
At SKOL Ranch, you're not just playing a round of disc golf; you're immersing yourself in a true paradise that blends disc golf into an escape. It's a place where nature's beauty merges seamlessly with the thrill of the game, creating an unforgettable experience. You'll want to return time and time again.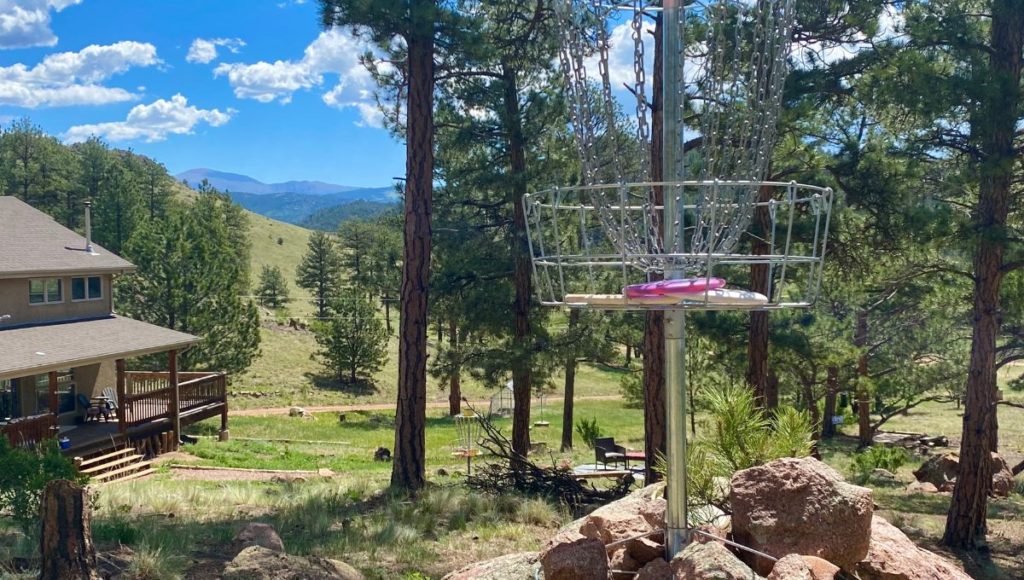 The Disc Golfer's Paradise of SKOL Ranch
When we started looking for a property, the number one thing on our list of demands for our new home was, "I never want to own another lawn mower so long as I live." Ironically, "enough land for a private disc golf course" didn't even make the list.
About five months into owning our property, Gary comes into the house after being out on the ATV. He asked, "Can you print an aerial view of our property?"
"Sure," I replied. "What's up?"
"I think we have a disc golf course," he replied.
A mere 90 minutes later, he brought me a map and asked, "Can we order baskets?"
Located in the tiny, remote Teller County, in the southern Front Range of Colorado, we are incredibly secluded, but…
Nestled in a valley between the Continental Divide and Pikes Peak with the Sangre De Cristos to our south, our weather is amazingly mild most of the year. We rarely have humidity, so we don't have many bugs.
At 8200 ft. of elevation in the high plains desert, we have an abundance of flora and fauna. We truly live where the deer and the antelope roam… along with the chipmunks, prairie dogs, fox, badger, bear, bobcats, mountain lions, and a plethora of birds.
We live in the middle of our wonderland.
Immersed in Scenic Beauty
As you make your way to the ranch, you'll be greeted by the awe-inspiring sight of Pikes Peak. America's Mountain stands tall and proud in the distance.
The surrounding area is a nature lover's paradise, with picturesque landscapes and captivating vistas, lush forests teeming with towering pines, and rolling hills adorned with vibrant wildflowers. It's truly a feast for the eyes.
The scenery around SKOL Ranch is like something out of a dream, and every round of disc golf you play here is accompanied by a backdrop that will leave you in awe of the splendor of Mother Nature.
Unforgettable Course Features
As proud owners of SKOL Ranch Disc Golf Course, we've received some incredible feedback from our players, and nothing makes us happier than hearing the sound of chains and seeing everyone enjoying themselves out on the course.
We've put our hearts and souls into creating a one-of-a-kind disc golf experience. With the privilege of owning and living on the course, Gary was able to design a course that offers jaw-dropping views of the landscapes around us. The scenery alone is worth the visit!
Gary carefully crafted the layout to challenge and excite players of all skill levels. The course boasts elevation changes that will make your heart race, trees that'll test your accuracy and rocks that'll keep you on your toes. But fear not; we've also strategically placed some birdie opportunities to keep the game interesting and give you a chance to show off your skills.
Planning a Disc Golfer's Paradise Escape
At SKOL Ranch, we strive to make everyone feel like part of the family. Whether you're here for the day or staying all week, we're all about creating a welcoming and friendly atmosphere where you can truly enjoy your time on and off the course. We allow on-site camping (primitive only, no fires!), and we have an Airbnb available, so you can make the most of your disc golf getaway.
GPS Matters

If you're coming to SKOL Ranch, we recommend using Apple Maps or Waze to get here. Google Maps will take you about 4 miles out of your way, down a poorly maintained road. If you're coming from the north, and your directions tell you to turn left onto High Park Rd. at the "Y-intersection," – they are wrong. You should be turning right onto Teller 112.
Whether you're a local or visiting Colorado, we sincerely invite you to come and experience SKOL Ranch for yourself. It's not just a disc golf course; it's a place where memories are made, friendships are formed, and unforgettable moments happen. We can't wait to meet you and have you join us on this epic disc golf adventure!
We're constantly working on expanding and improving our course. We have some exciting plans in the pipeline that will take SKOL Ranch to the next level of awesomeness. So keep an eye out for updates because we can't wait to share them with you.