About SKOL Ranch
When we bought our property in the heart of Colorado, a disc golf course wasn't part of the original plan. But, as we explored the 20 acres of mountain property, we knew one thing for sure, it was too beautiful to keep to ourselves.
We wanted to share all that we had been blessed with.
One day, while making trails with the ATV, Gary realized the potential for an epic disc golf course. So, we printed an aerial map of the property, and an hour later, Gary had a plan.
So we ordered baskets and our epic mountain disc golf adventure began!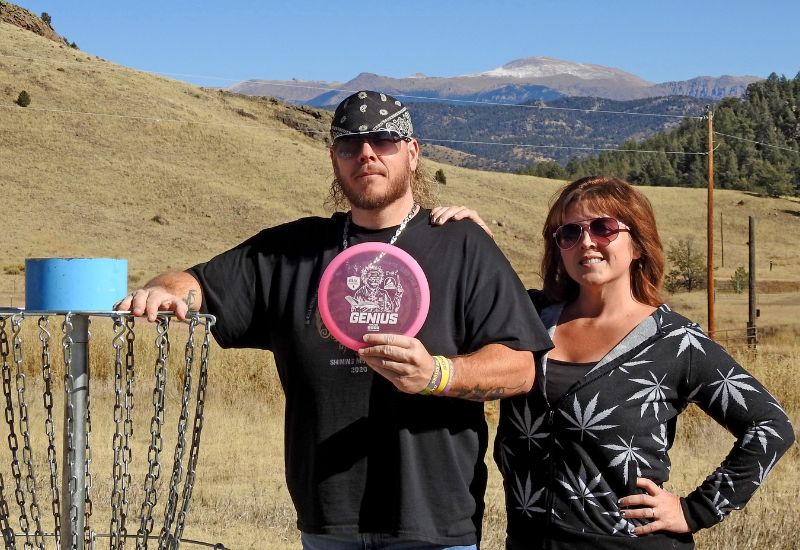 Playing since the mid-90s, Gary's love for disc golf shines through on the course.
About SKOL Ranch Disc Golf
The first few holes rip across open land to warm up your arm before you wind up the mountainside for some sweet technical throws and tight windows.
Hole six will leave you breathless… testing your endurance and lung capacity with 125 feet of elevation gain. But you'll be well rewarded with the views of Pikes Peak from tee box 8.
The back 9 baskets offer a double-Mando, tight hallway through the trees, and an epic, 420 ft. bomb off the top of our mountain.
Many of the tee pads are paved, while others are natural dirt. The course is well-maintained all year long. Often the course remains playable even in the winter.
We truly appreciate everyone who visits SKOL Ranch, and we try to ensure that you'll always have an unforgettable experience.
We greet all our guests to check you in and provide you with a map and scorecard. Our home acts as a mini "clubhouse" with restrooms, water, and social space.
Come on in… just don't let the dog out!
About SKOL Ranch Offerings:
Tee TImes
Book your tee time to let us know you're coming! Set a time for you and all your buddies.
Private Bookings
Want the whole course to yourself for a special event? Book your private party at SKOL Ranch.

Packages & Add-Ons
Book your vacation and then check out our packages and add-on amenities to make your vacation easy & fun!

Looking for a unique weekend getaway? Book our cabin on Airbnb and be our guest! Unlimited disc golf, unlimited fun!