Lodging at SKOL Ranch
We knew the day we bought our property that we were going to need space for guests. The 20 acres that our home sits on are simply too beautiful to keep to ourselves, and we wanted to share it with everyone. But at the same time, we didn't want to ruin the peacefulness, privacy, and seclusion of our location.
We wanted to keep the environment simple, comfortable, personal, and warm.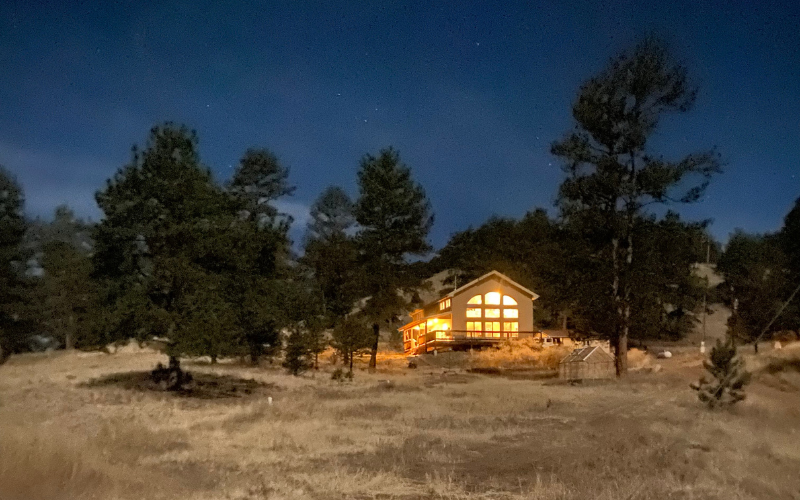 We are here on-site throughout your entire stay and are happy to share our home with all our guests and help you have an unforgettable vacation.
Some people have a detached garage – we have a detached bedroom. Our cabin is 350 sq. ft. of comfortable sleeping space. Our 16×24 Tuff Shed has been insulated, remodeled, and made into a cozy area that gives our guests their own space for sleeping, while all the amenities of our home are just a few steps away.
Our Home is Your Home
Inside the main house, we welcome our guests to take advantage of our living space which is specifically designed for socializing with plenty of space for you and your friends. 
You're welcome to use our kitchen for cooking your own meals, the spare bathroom is upstairs and the Viking loft is a great place to lounge out. Of course, while you're at SKOL Ranch, you're always welcome to partake in your favorite Colorado herb.
The cabin has two cozy queen beds, a fold-down sofa, as well as two queen air mattresses and can easily sleep 4-6 people, 8 if you don't mind being close. There is a fireplace, a 36" television, and a DVD player, with a large selection of movies. We do not have cable and steaming doesn't work well on our satellite connection. Speaking of connection – we live where the deer and the antelope roam, but the cell signal doesn't – you will lose cell signal on your way here.
Our property offers epic views, bird-watching, a 19-basket disc golf course, hiking, forest bathing, and we have a rock maze that is a work in progress. Just a mile west, you'll find Guffey Gorge, also known as Paradise Cove… a beautiful half-mile hike through a canyon to a waterfall and popular summer swimming hole.

Hours of Operation
Disc Golf Course: 7:00am – Dusk
Lodging: 24/7/365